---
78676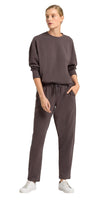 Hanro Natural Living Pants
Regular price $270.00
Sustainable loungewear options made from organic cotton in our Natural Living collection. Perfect for lounging at home or build a trendy outfit for a fashionable athleisure look with casual, modern cuts. The pants feature a slightly wider cut for a relaxed look. A covered elastic waistband with drawstring ensure a perfect fit, and side pockets add a practical touch.
Sweater not included.
Hoodie available and sold separately. 
Style: 78676
Collection: Natural Living
Fabric: 94% Cotton, 6% Elastane